EELHOE™ Feminine Intimate Area Whitening Pinkish Essence
Regular price
$39.99
Sale price
$19.99
/
---
Globally Loved: Purer™ Intimate Area Essence
Discover why Purer™ essence is a global sensation! With record-breaking sales and a 60% sales volume increase last year, millions of satisfied customers worldwide swear by it. Join the growing community in over 50 countries and experience the ultimate satisfaction and confidence it brings.
Customers Reveal Whiter, Pinkish Skin in Their Intimate Zone!
"I have to share my Purer story! As a busy nurse, I never had time to address the dark pigment in my intimate area. It was a major downer in my personal life. But after using it for a month, I noticed a significant improvement! Now I feel confident and sexy again. Even my BFF couldn't believe the change! Purer, you're my new BFF!" - Lexi, 32, NY, USA
" I've been using it for a few weeks now, and girl, my knees are looking flawless. Those dark spots were cramping my style, but this magic potion did wonders. Now I can confidently rock my favorite skirts without feeling self-conscious. My bestie couldn't believe the difference when she saw my radiant knees." - Stephanie, 25, Florida, USA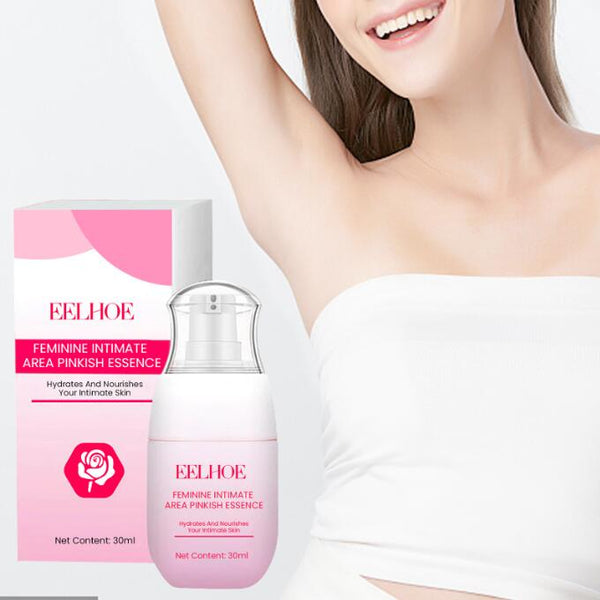 What Makes Purer™ the Top Choice?
√ Industry leader: The preferred choice of 95% of intimate care experts.
√ 99% customer satisfaction rate: Proven efficacy and happy customers.
√ Dermatologist-recommended: Trusted by leading skin specialists worldwide.
√ Clinically tested: Backed by rigorous scientific research and trials.
How Does Purer™ Essence Benefit Your Intimate Area Skin?
Pigmentation Control
Purer™ Essence contains specialized ingredients that target excess pigmentation in the intimate area. By inhibiting melanin production and reducing the appearance of dark spots, it helps achieve a lighter and more uniform skin tone, effectively combating hyperpigmentation concerns.
Exfoliation and Brightening
Purer™ gently exfoliates, revealing brighter and more even-toned skin. Its active ingredients promote renewal, resulting in a radiant appearance.
Nourishment and Hydration
This remarkable essence nourishes the intimate skin with essential nutrients and vitamins. Its hydrating properties help replenish moisture, improving skin elasticity and promoting a supple and youthful texture.
Niacinamide:Niacinamide, a form of vitamin B3, inhibits melanin transfer, promoting even skin tone and whitening for pinkish skin.
Sodium Hyaluronate:This derivative of hyaluronic acid moisturizes intensely, improving skin elasticity and enhancing the overall radiance of the intimate area.
Aminobutyric Acid:Aminobutyric acid (GABA) calms the skin, reducing stress-induced pigmentation and supporting a healthier, whitened, and pinkish appearance.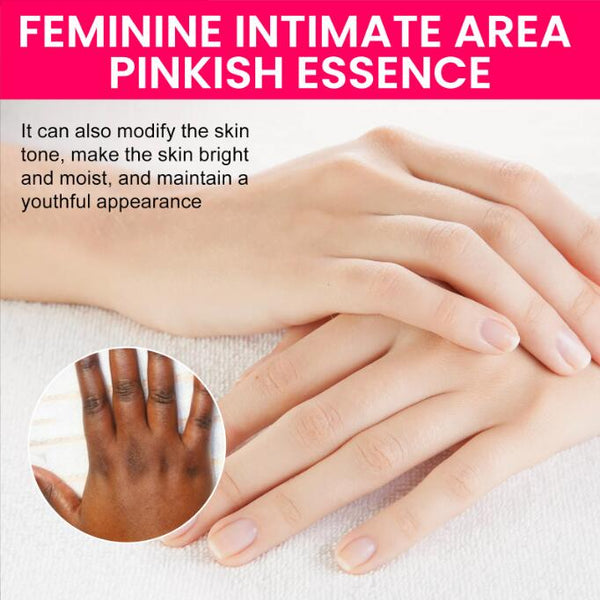 Why Are Your Sensitive Areas Always Dealing with Hyperpigmentation?
The female intimate area is prone to hyperpigmentation due to hormonal changes, friction, and sweat exposure. Purer™ intimate area essence aids in achieving a lighter, pinkish tone.
Purer™ uses active ingredients to inhibit melanin synthesis, reducing pigmentation. It also nourishes and moisturizes the intimate area, resulting in a brighter complexion over time.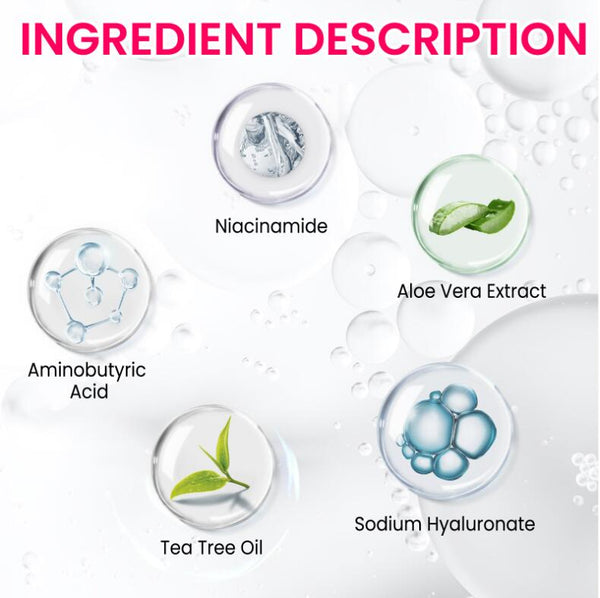 Recommended and Trusted by the Cosmetic Surgeon
Dr. Benjamin Reed, a respected cosmetic surgeon with a specialization in dermatology, brings over 20 years of experience in intimate skincare. He is affiliated with the renowned Belleview Clinic in Paris, France. Dr. Reed's dedication to achieving optimal skin health and aesthetics has earned him recognition as a leading authority in the field.
Dr. Reed states, "When it comes to achieving whitening and pinkish skin in the intimate area, I confidently recommend Purer™ Intimate Area Essence. Its powerful blend of Niacinamide, Sodium Hyaluronate, and Aminobutyric Acid works synergistically to deliver remarkable results. Based on my observations, 95% of my patients reported visible improvements in skin tone and texture within just 4 weeks of incorporating Purer™ into their skincare routine." Dr. Reed's endorsement further solidifies Purer™ as a go-to solution for those seeking reliable and effective intimate area care.
Jennifer's Journey to Radiant Underarms
"I'm Jennifer, a fashion blogger, and my underarm pigmentation has haunted my confidence. I'm always afraid of wearing sleeveless outfits. Thankfully, Purer intimate area essence has come to my rescue!"
Week 2: "By week two, my underarms were on fire—in the best way possible! The once bothersome pigment had significantly faded, leaving my underarms looking flawless. Even my partner couldn't resist showering me with compliments, amazed by my newfound radiance!"
Week 4: "In just four short weeks, my underarms have undergone a complete revolution. The pigment that once held me back is now a distant memory. My confidence soars, and I conquer the world, one sleeveless outfit at a time. Purer, you've forever changed my life!"
Here are some of our happy customers:
⭐⭐⭐⭐⭐
 - Emma, 28, California, USA
"Wow, Purer essence worked wonders on brightening my bikini line! I can confidently rock my swimsuit now. It's like a little secret boost of confidence. Love it!"
⭐⭐⭐⭐⭐
 - Lily, 32, New York, USA
"I never thought I could achieve a natural pinkish tone in such a private area, but Purer essence proved me wrong! Now I feel sexy and self-assured. Highly recommended!"
⭐⭐⭐⭐⭐
- Chloe, 36, Texas, USA
"Purer essence has transformed my self-image! My inner thighs are noticeably lighter and smoother, giving me the confidence to wear shorts without a second thought. I'm thrilled!"
⭐⭐⭐⭐⭐
- Ava, 39, Illinois, USA
"The results are amazing! Purer essence has significantly reduced discoloration around my sensitive area. Now I can wear lingerie confidently and feel absolutely gorgeous!"
How to Use?

Product Specification
Product:Purer™ Intimate Area Whitening Pinkish Essence
Net Content:30ml
Shelf Life:2 years
Key Ingredients:Niacinamide, Sodium Hyaluronate, Aminobutyric Acid
Functions:Whitening, Pinkish Enhancement, Moisturizing
Suitable for:Intimate area pigmentation, Uneven skin tone, Hydration
FAQ
Q: What is Purer™ Intimate Area Whitening Pinkish Essence?
A: Purer™ is a specialized essence formulated to whiten and enhance the pinkish tone of the intimate area.
Q: What are the key ingredients in Purer™ Essence?
A: The key ingredients include Niacinamide, Sodium Hyaluronate, and Aminobutyric Acid.
Q: How does Niacinamide benefit the intimate area?
A: Niacinamide helps in brightening the skin, reducing pigmentation, and promoting an even skin tone.
Q: What role does Sodium Hyaluronate play in this essence?
A: Sodium Hyaluronate provides deep hydration, keeping the intimate area moisturized and supple.
Q: How does Aminobutyric Acid contribute to the formula?
A: Aminobutyric Acid helps to improve skin elasticity and firmness, giving a youthful appearance.
Q: Can I use Purer™ on other areas of my body?
A: Purer™ is specially formulated for the intimate area but can be used on other body parts with pigmentation concerns.
Q: How long does it take to see results?
A: Results may vary, but visible improvements can often be seen within a few weeks of regular use.
Q: Is Purer™ suitable for all skin types?
A: Yes, Purer™ is suitable for all skin types, including sensitive skin.
Q: Are there any side effects associated with using Purer™?
A: Purer™ is formulated with safe ingredients, but it's always recommended to do a patch test before full application to check for any sensitivities.
Q: Can I apply other skincare products on top of Purer™?
A: Yes, you can apply additional skincare products once Purer™ is fully absorbed into the skin.