Plant Lightening Melanin Freckle Cream
Regular price
$26.95
Sale price
$14.11
/
---

Use the Freckle Whitening Cream to brighten dull complexion and remove freckles and dark spots while balancing the skin's moisture.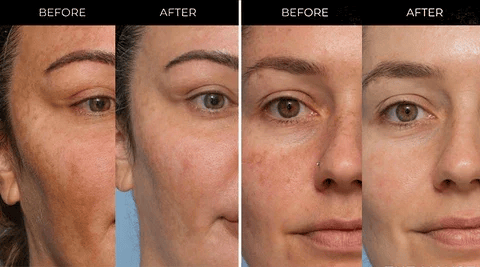 Benefits of Freckle Whitening Cream:
Whitens and gets rid of freckles, melasma, and other dark spots.

Brightens dark and yellow skin tone.

Accelerates the decomposition of pigments and helps decompose spotted roots.

Prevents new spots from forming, leaving a brighten, smoother even skin tone.

Moisturizes and hydrates the skin.

Prevents dry patches and rough skin texture.

Isabella Hill, 28, Richmond, Virginia
The Spot-Off™ Freckle Whitening Cream + spf really help fade my freckles and prevent them from coming back. I've only been using this cream for weeks and the result it gave me is better than other brightening serums I've tried. Very potent formula yet mild on my skin. My skin didn't react to it. It's actually super moisturizing and hydrating as well.
Katie Kelly, 34, Los Angeles, California
I suffer from melasma, and this spot whitening cream is the only product that actually works without leaving it itchy. The ingredients list is amazing. The formula really does an awesome job at keeping pigmentation at bay. The texture is also perfect and absorbs easily.
Hollie Smith, 45, Beaverton, Oregon
I'm nearing my 50s, so it's only natural to see age spots appearing. But this cream has done a good job at diminishing them. This lightening cream even moisturizes my face and fades some of my lines. I use this as a spot treatment on problem areas. Works great!
The Freckle Whitening Cream's Blend of Actives & Moisturizing Ingredients
The Freckle Whitening Cream has a potent but mild formulation that lightens uneven skin tone and yellowish, dull complexion. It effectively downplaying freckles, melasma, hyperpigmentation, dark spots, and other skin discoloration issues.
Another powerhouse ingredient, niacinamide, is present in this whitening spot treatment. This active ingredient boosts skin regeneration while also adding a layer of protection against the sunlight, toxins, and other external aggressors. It lightens the scars they leave behind, improving the overall texture and condition of the skin.
The Freckle Whitening Cream delivers moisture to the skin while preventing inflammatory damage after UV exposure. Aside from giving skin intense hydration, Vitamin E also aids in wound healing and tackles all signs of skin inflammation.
The Freckle Whitening Cream works by allowing this powerful blend of active ingredients to penetrate the epidermis, moisturizing, repairing, and adjusting the radiance of the skin from the deeper layers. The cream targets the spots and discoloration, leaving you with a bright, even toned, and glowing complexion. 
"I'm not a huge fan of my freckles. I tried different methods to remove or conceal them, from covering the freckles with thick makeup to skin bleaching, but none worked for me. Bleaching was effective but it left my skin itchy and sensitized. I tried the Spot-Off™ Freckle Whitening Cream, and the gentle yet powerful formula is just perfect for my skin type and addresses my skin issues. Holy grail!" - Felicia Raymundo, beauty influencer
"Freckles disappeared in just 1 month!", Lina Robinson shares.
I had freckles peppering all over my cheeks and nose. I found them adorable at first but they became prominent and covered almost my whole face. I tried the Spot-Off™ Freckle Whitening Cream to see if it would give me visible results, and I was blown away!
Week 1:
There was no huge difference in my first week of using this freckle removal cream. But the good news was it didn't irritate my skin. It also left a soft, moist feeling on my face.
Week 2:
By this time, I already saw the lightening effect on my freckles. The prominent ones on my nose were starting to fade.
Week 4:
I consistently used the Spot-Off™ Freckle Whitening Cream everyday for nearly a month, and the results are amazing! Freckles around my nose and cheeks are all gone! And the best part is even when I'm exposed to the sun, they never go back. This has been a huge help for me. I'll keep using this not just as a spot treatment but as a facial cream since it also brightens my skin tone.
Product Specifications
Net weight: 30g
Shelf Life: 3 years
Main Ingredients: Shea butter extract, glycerin, sodium hyaluronate
Package Includes
1/2/3 x  Plant Lightening Melanin Freckle Cream